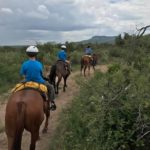 The reunion committee has planned a full schedule of activities (See Schedule), and we encourage you to participate, but none of these activities is "required." You may participate as you choose or spend your time visiting with each other or enjoying camp and the surrounding area.
Swimming: The pool is open for swimming at the times designated on the Reunion Schedule, and lifeguards will be on duty at those times, so bring your swimsuit! All children must be supervised by a parent or other responsible adult during swimming.
Horseback riding: Rides are scheduled on Friday and Saturday during the reunion. Those who reserved a ride on the registration form have a confirmed ride. At this time, there are a few one-hour and two-hour rides still available. If you wish to reserve a ride and have not already done so, click HERE to access sign-up. Long pants, boots, and a helmet are required for riding. Helmets and boots are available at the barn for participants' use. At least 24 hours prior to the ride, riders must complete an on-line Horseback Riding release using one of the following links:
Hiking: Organized hikes of varying lengths and difficulty are scheduled during the reunion. Those who wish to hike are encouraged to participate in one or more of those activities. If you wish to hike on your own, please sign out at the Kiva. Stay on camp property, wear appropriate clothing and shoes, take plenty of water, and do not hike alone.
Area activities: For those who wish to visit the Marfa Lights, Balmorhea, Fort Davis or other area sites, informal outings can be arranged. McDonald's Observatory hosts star parties on Friday and Saturday nights, but prior reservations are required. This popular activity fills up quickly, so if you would like to attend one of those activities, make your reservation right away at https://mcdonaldobservatory.org.
Auction: An important goal of Troop Mitre is to support the maintenance of Camp Mitre Peak so girls can experience Mitre Magic for many years to come. Our popular Feed-the-Flame Auction will take place Saturday evening. All proceeds from the auction will go to Troop Mitre's Feed the Flame fund for the upkeep of camp. Bring your handcrafted items and other donations and come prepared to bid on some amazing hand-made items and other unique memorabilia. The event will also include a silent auction and a store of small items.